Subscribe to our weekly newsletter
Browse the Recipe Directories

Potatoes with Spicy Black Beans
How many servings?

From kitchen to table in 1 hour and 15 minutes.


canned black beans
olive oil
red onion
tomato

cumin
pepper
fresh cilantro




Full-day menu and shopping list to accompany Potatoes with Spicy Black Beans
Directions
Bake potato in oven at 400 degrees until tender when pierced with a fork (about 1 hour and 15 minutes).
When potatoes have been baking for 1 hour, prepare spicy bean topping.
Drain and rinse beans. Set aside.
Dice onion, tomato and jalapeno pepper. Pour olive oil into a skillet, add vegetables and cook over medium heat, stirring often for four minutes.
Stir in beans. Sprinkle with cumin and pepper. Continue cooking and stirring until beans are soft.
Chop cilantro and stir into beans. Serve over baked potatoes.
Find more recipes in our free weekly newsletter
Recipe for Cornucopia Casserole
Custom Search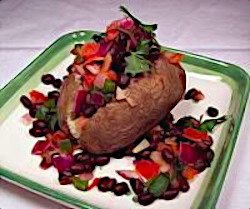 Nutritional information for
Potatoes with Spicy Black Beans
Nutritional information is
made possible through the
use of the Living Cookbook.
I love the Living Cookbook!
Not only can you determine
the nutritional content of
your favorite recipes, you
can also..
Read more.