Chocolate Drop Cookies

3 tablespoons butter or margarine
1 square unsweetened chocolate
1 egg
3/4 cup sugar
2 tablespoons milk
1 cup flour
1/2 teaspoon baking powder
1 cup chopped pecans
Directions.
Preheat oven to 350 degrees. Spray cookie sheet with non-stick cooking spray.
In a saucepan, melt butter or margarine and chocolate square.
Beat egg with sugar and milk in a mixing bowl. Pour in melted chocolate and blend.
Dump flour on top of chocolate mixture. Sprinkle baking powder over the top of the flour
Using a fork, blend baking powder into flour and continue mixing until all ingredients are blended.
Fold in pecans and drop by spoonfuls onto cookie sheet.
Place in oven and bake for 5 to 8 minutes or until the edges are firm.
Remove from oven and place on a cooling rack.
Find more recipes in our weekly newsletter

Custom Search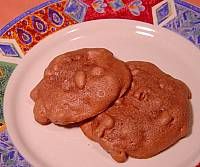 Chocolate Drop Cookies
or try..
Citrus Cake
Mashed Potato Candy
Coconut Pecan Brownies
Lemon Cookies
Chocolate Chip and Almond Biscotti
Copyright © 2004 - 2020 What's For Dinner? Make Dinner Time Family Time! - All Rights Reserved. Terms of Use