Subscribe to our weekly newsletter
Browse the Recipe Directories

Apple Pancakes and Strawberry Yogurt Smoothie
How many servings?

From kitchen to table in 20 minutes.



flour
baking powder
cinnamon
milk
honey
olive oil

maple syrup
yogurt
milk
strawberries
honey
chipped ice


Grocery Shopping List for Apple Pancakes
Directions
Peel and dice apple. Submerge in cold water and set aside.

Stem and dice strawberries and set aside.

Blend flour, baking powder and cinnamon together in a mixing bowl.

Turn non-stick electric griddle on to 375 degrees to preheat.

In a separate bowl, mix milk, honey, olive oil and eggs and beat until fluffy.

Stir into flour and mix just until blended (there will be some lumps).

Drain apple pieces and fold into batter.

Test skillet by placing a drop of water on the surface. Water will skitter across the pan when the temperature is hot enough.

Pour pancake batter onto skillet. (Skillet can be lightly coated with oil if desired.)

While first side of pancake cooks, place yogurt, milk, strawberries, honey and chipped ice in a blender.

Flip pancakes when bubbles begin to burst and leave craters.
Place lid on blender and mix on high for 10 to 20 seconds.
When smoothie is blended, pancakes will be ready to serve with maple syrup.
Find more recipes in our free weekly newsletter
Recipe for Chicken Popper Salad
Custom Search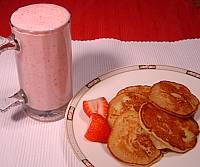 Nutritional information for
Apple Pancakes
Nutritional information is
made possible through the
use of the Living Cookbook 2011 .
I love the Living Cookbook!
Not only can you determine
the nutritional content of
your favorite recipes, you
can also..
Read more.