Subscribe to our weekly newsletter
Browse the Recipe Directories

Tuna Mac Salad and Cheese Bread
How many servings?

From kitchen to table in 45 minutes.

dry macaroni
tuna
broccoli
onion
green pepper
mayonnaise
Italian salad dressing
mustard
lemon juice
red wine vinegar
salsa
Italian seasonings
French bread
butter or margarine
Mozzarella cheese


Grocery Shopping List for Tuna Mac Salad and Cheese Bread
Directions
Boil water in a large saucepan for cooking macaroni.
Drain tuna and place in a bowl with a lid suitable for the refrigerator
Chop broccoli, onion and green pepper and add to tuna.
Cook macaroni according to package directions.
Add macaroni to tuna and vegetables.
Add mayonnaise, salad dressing, mustard, lemon juice, vinegar, salsa and Italian seasonings. Mix well.
Chill for at least 30 minutes.
Spread margarine on one side of bread and place under broiler until toasted.
Flip bread and place cheese on top. Return to broiler and heat until cheese is melted.
Serve with chilled salad.
Find more recipes in our free weekly newsletter
Try our random recipe finder
Custom Search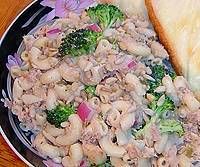 Nutritional information for
Tuna Mac Salad and Cheese Bread
Nutritional information is
made possible through the
use of the Living Cookbook.
I love the Living Cookbook!
Not only can you determine
the nutritional content of
your favorite recipes, you
can also..
Read more.