Chicken || Beef || Meatless || Pork || Fish || Dessert || Today's Menu
Cinnamon Nut Bread
1 loaf frozen bread dough
3 tablespoons softened butter
1/2 cup sugar
1 1/2 teaspoons cinnamon
1/2 cup chopped nuts
non-stick cooking spray
Directions.
Completely thaw bread dough.
Preheat oven to 350 degrees. Spray a loaf pan with non-stick cooking spray.
On a lightly floured surface or piece of wax paper, roll bread dough flat to a 2 inch thickness. (Roll widthwise only, the length should remain the same.)
Spread butter over the surface of the bread dough.
Mix sugar, cinnamon and chopped nuts together.
Sprinkle nut mixture evenly over one side of the bread dough.
Fold untopped half of bread over topping. Seal by pinching with dampened fingers.
Press into loaf pan. Bake for 15 to 20 minutes or until golden brown.
Remove from loaf pan, cool and cut into slices.
Find more recipes in our weekly newsletter

Custom Search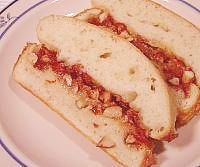 Cinnamon Nut Bread
or try..
Chocolate Chip Walnut Chewies
Apple Spice Crumb Cake
Banana Applesauce Pecan Bread
Cranberry Apple Crisp
Coconut Pecan Brownies


Copyright © 2004 - 2020 What's For Dinner? Make Dinner Time Family Time! - All Rights Reserved. Terms of Use