Table of Contents || Previous: Learning the Alphabet Letters - Use Food to Teach your Child the Alphabet || Next: Different Types of Pasta
Benefits of Coconut Oil - Health Benefits of Coconut Oil
by Stephen Rampur
---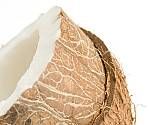 People have been using coconut oil for years, but most don't really know about its contribution to proper functioning of the body. There are several health benefits of coconut oil to different parts of the human body, such as hair, skin, kidney, liver, and many more. It has adequate amounts of lauric, capric, and caprylic acid; and also has been considered a disinfectant, an antioxidant, antimycotic, antibacterial, and a soothing agent. It's consumed by muscle-builders and jocks simply for the reason that it has lower amounts of calories as compared to any other oil, and its fat can easily be converted into the required energy. Coconut oil for the hair is one of the little known facts. However, let's discuss few of its health benefits below.

Benefits to the Hair

A familiar fact of coconut oil is that it's one of the best natural nutrient for the hair. It contributes to hair growth and also gives the hair a shiny complexion. If you put it on your head and massage everyday, it would keep your hair free from dandruff and lice even if the scalp is dry. It is mostly used in India as a method for keeping hair healthy and strong. It's also believed to act as a hair conditioner, and helps to regrow damaged hair. Damaged hair growth is a result of the proteins it comprises of. There are many hair care products which are made out of coconut oil.

Benefits to the Skin

It is also an efficacious massage oil for any type of skin. It has certain moisturizing capabilities that have proven to be beneficial to the skin. Moreover, if one applies it on his skin, he won't experience any side-effects. It is a simple and affordable solution of precluding dryness and flaking off of the skin. It's also a good alternative for medicines that are meant to prevent wrinkles and skin sagging which show up as the skin ages. Skin doctors normally recommend the use of coconut oil for curing skin complications such as psoriasis, dermatitis, eczema, etc. As a result, it is present in most of the daily skincare products such as soaps, skin creams, and body lotions.

Other Benefits of Coconut Oil
Prevents Heart Diseases: There is a common misconception among people that coconut oil is harmful for the health due to the presence of a considerable amount of saturated fats. However, it's actually good for the heart as it contains approximately 50% of lauric acid which is very important in precluding various heart diseases like hypertension and high cholesterol levels. Unlike in other vegetable oils, the saturated fats present in it do not cause any harm to our health.
Promotes Weight Loss: As it has short and medium-chain fatty acids, it effectively helps a person to get rid of his excessive weight. It is easily digested by the body, and enables the enzyme and thyroid systems to function efficiently. It also contributes in increasing the body metabolism by reducing stress on the pancreases, which in turn burns a considerable amount of fat, hence reducing the body weight.
Healing Properties: The fact that coconut oil heals wounds is generally believed by elderly people. When it's applied on the wound or an infection, it covers the infection with a chemical layer which prevents dust, dirt, bacteria, and virus getting in contact with the wound. It is best for bruises as it effectively repairs damaged tissues. It's certainly proven that coconut oil heals cuts.
Prevents Premature Aging: It's well known for its role in preventing premature aging and several degenerative disorders because of the antioxidant capabilities.
Relieves Stress: It plays a very significant role in relieving stress. Everyday massage to the head with some coconut oil helps reduce mental fatigue.
There are many more health benefits of coconut oil, such as improving the body's immunity, protection from infection and viruses, prevention of liver and kidney disorders, controlling diabetes, making the bones healthy, etc.
---
---
Custom Search