Subscribe to our weekly newsletter
Browse the Recipe Directories

Patty Melt with Sauerkraut and Onions
How many servings?

From kitchen to table in 20 minutes.


ground beef
jack cheese
bread
margarine
sauerkraut
red onion







Full-day menu and grocery shopping list to accompany Patty Melts with Sauerkraut and Onions
Directions
Shape ground beef into patties.
Brown in a skillet over medium heat. Turn to brown other side.
Dice onion and add to sauerkraut and heat over medium-low heat.
Cut cheese into slices.
Spread margarine over one slice of bread
and place in a griddle, margarine side down over medium heat.
Arrange half of cheese onto bread slice. Top with cooked hamburger patty, then remaining cheese and other bread slice. Spread margarine over top slice of bread.
Cook over medium heat until brown on one side.
Turn and brown other side. Serve with sauerkraut and onions.
Find more recipes in our free weekly newsletter
Beef Porcupines is another delicious ground beef recipe
Custom Search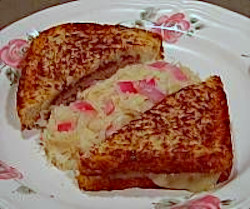 Nutritional information for
Patty Melt with Sauerkraut and Onions
Nutritional information is
made possible through the
use of the Living Cookbook.
I love the Living Cookbook!
Not only can you determine
the nutritional content of
your favorite recipes, you
can also..
Read more.