Chicken Pasta Salad
Make this chicken pasta salad filled with fresh vegetables and go on a picnic!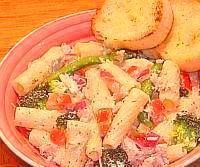 Serves 4
8 ouncces rigatoni pasta
4 ounces cooked chicken
4 ounces sugar peas
4 ounces tomato
4 ounces broccoli
2 ounces onion
2 tablespoons mayonnaise
2 tablespoons Italian salad dressing
1 teaspoon mustard
1 teaspoon lemon juice
1 dash pepper
1 dash cilantro
1 dash dill weed
4 slices jalapeno flute bread
2 teaspoons margarine

Print out the recipe for Chicken Pasta Salad
Custom Search
From kitchen to table in
Directions
Cook pasta according to package directions.
Drain and rinse and place in a refrigerator container.
Add chicken and sugar peas.
Slice tomato, broccoli and onion and add to pasta.
Add mayonnaise, salad dressing, mustard and lemon juice and mix well.
Add pepper, cilantro and dill weed and mix again.
Cover and refrigerate for at least 30 minutes.
10 minutes prior to serving, slice bread, spread with margarine and place under broiler until browned.
Serve with pasta salad.
Nutritional Information for Chicken Pasta Salad
Nutritional information for Chicken Pasta Salad
Calories: 667
Calories from Fat: 199
% Daily Value*
| | |
| --- | --- |
| Total Fat 22g | 34% |
| Saturated Fat 6g | 32% |
| Cholesterol 50mg | 17% |
| Sodium 925mg | 39% |
| Total Carbohydrates 88g | 29% |
| Dietary Fiber 5g | 21% |
| Sugars 2g | ~ |
| Protein 28g | 50% |
| | | | |
| --- | --- | --- | --- |
| Vitamin A | 35% | Iron | 34% |
| Vitamin C | 65% | Calcium | 12% |
*Percent Daily Values are based on a 2000 calorie diet. Your daily values may be higher or lower depending on your calorie needs