Zesty Ham and Rice Skillet
Cheese salad dressing is the secret ingredient in this crispy fried rice recipe with ham.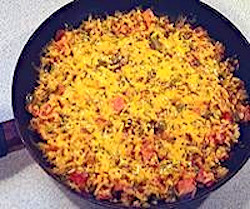 Serves 4
2 cups chicken broth
1 cup uncooked brown rice
1 tablespoon & 1 teaspoon olive oil
6 ounces ham
2 ounces onion
1 clove garlic, chopped
4 ounces canned green beans
1/4 cup salsa
1 tablespoon & 1 teaspoon cheese salad dressing
4 ounces grated cheddar cheese
1 dash cilantro
4 ounces tortilla chips
1/2 cup salsa

Print out the recipe for Zesty Ham and Rice Skillet
Full-day menu and grocery shopping list to accompany Zesty Ham and Rice Skillet
Custom Search
From kitchen to table in
Directions
In a saucepan with a lid, heat chicken broth on high heat to boiling.
Stir in rice, cover and reduce heat to lowest setting.
Cook without lifting cover for 50 minutes.
Pour olive oil into a non-stick skillet.
Dice ham and add to skillet. Heat on medium heat until ham is lightly browned.
Add cooked rice and cover. Meanwhile dice onion and green beans.
Add onion, garlic, green beans, salsa and salad dressing to rice. Stir well to blend.
Continue cooking over medium heat stirring often.
When rice has reached desired crunchiness, turn heat to low and sprinkle grated cheese over the top.
Sprinkle with cilantro and allow cheese to melt.
Serve with tortilla chips and salsa.
Nutritional Information for Zesty Ham and Rice Skillet
Nutritional information for Zesty Ham and Rice Skillet
Calories: 600
Calories from Fat: 254
% Daily Value*
| | |
| --- | --- |
| Total Fat 28.5g | 44% |
| Saturated Fat 9.5g | 49% |
| Cholesterol 54mg | 14% |
| Sodium 1597.5mg | 67% |
| Total Carbohydrates 59.5g | 20% |
| Dietary Fiber 4.5g | 19% |
| Sugars 2.5g | ~ |
| Protein 27g | 55% |
| | | | |
| --- | --- | --- | --- |
| Vitamin A | 11% | Iron | 14% |
| Vitamin C | 5% | Calcium | 29% |
*Percent Daily Values are based on a 2000 calorie diet. Your daily values may be higher or lower depending on your calorie needs