Thanks for the recipe, Letha!
Streusel-Topped Muffins
2 cups all purpose flour
1/2 cup sugar
3 teaspoons baking powder
1/2 teaspoon salt
3/4 cup milk
1/3 cup oil
1 egg, beaten
Streusel Topping
1/4 cup firmly packed brown sugar
1 tablespoon butter or margarine, softened
1/2 teaspoon cinnamon
1/4 cup flaked coconut
Directions.
Preheat oven to 400 degrees. Grease bottoms only of 6 large or 12 small muffin cups or line with paper baking cups
In a medium bowl, combine flour, sugar, baking powder and salt. Mix well.
In a small bowl, combine milk, oil and egg. Blend well.
Add egg and milk mixture to dry ingredients all at once. Stir just until dry ingredients are moistened (batter will be lumpy.
Fill muffin tins 2/3 full
Make streusel topping by blending with a fork, brown sugar, butter or margarine, cinnamon and flaked coconut in a small bowl until crumbly.
Sprinkle streusel topping over muffins and place in hot oven.
Bake for 20 to 25 minutes or until a toothpick inserted into the center comes out clean.
Cool 1 minute before removing from pan.
Find more recipes in our weekly newsletter

Custom Search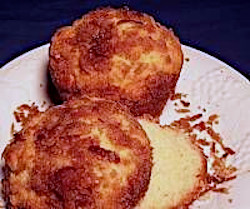 Streusel-Topped Muffins
or try..
Italian Cream Cake
Potato Chip Cookies
Snickerdoodles
Strawberry Granola Upside-Down Brownies
Hummingbird Cake


Copyright © 2004 - 2020 What's For Dinner? Make Dinner Time Family Time! - All Rights Reserved. Terms of Use