Rich Chocolate Cookies
1 cup butter, softened
3 eggs
1 1/2 cups sugar
1/2 cup unsweetened cocoa powder
2 1/2 cups flour
1/2 teaspoon baking soda
1 cup semi-sweet chocolate chips
Directions.
Preheat oven to 300 degrees.
In a large mixing bowl, beat together butter, sugar and eggs.
Continue beating while slowly adding cocoa powder.
Dump flour over mixture and sprinkle baking soda evenly over the top.
Blend baking soda into flour and continue stirring until cooking dough is well beaten.
Fold in chocolate chips.
Drop onto a cookie sheet with a tablespoon 1 1/2 inches apart.
Place in hot oven and bake for 20 to 23 minutes.
Transfer to a cooling rack. Yum!
Find more recipes in our weekly newsletter

Custom Search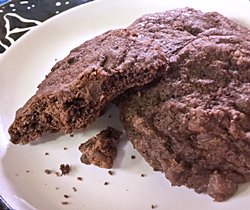 Rich Chocolate Cookies
or try..
Cinnamon Nut Bread
Citrus Cake
Glazed Zucchini Cake
Cranberry Apple Crisp
Italian Cream Cake


Copyright 2004 - 2011 What's For Dinner? Make Dinner Time Family Time! - All Rights Reserved. Terms of Use