Subscribe to our weekly newsletter
Browse the Recipe Directories

Orzo Salad
How many servings?

From kitchen to table in 1 hour (includes chilling time).

orzo
red bell pepper
orange bell pepper
chopped and seeded tomato
carrot
sun-dried tomatoes

watercress
minced garlic
Italian salad dressing
mayonnaise
lemon juice
shredded pepper jack cheese
sunflower seeds
French bread
Full-day menu and grocery shopping list to accompany Orzo Salad
Directions
Prepare orzo per package directions.

While pasta cooks, dice vegetables.

Mix vegetables, salad dressing, mayonnaise and lemon juice in a bowl.

Rinse cooked orzo and mix with vegetables.

Sprinkle with cheese and sunflower seeds.

Chill.
Serve with French bread.
Find more recipes in our free weekly newsletter
Colorful foods are high in anti-oxidants
Custom Search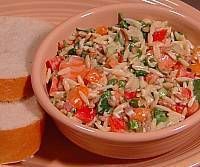 Nutritional information for
Orzo Salad
Nutritional information is
made possible through the
use of the Living Cookbook.
I love the Living Cookbook!
Not only can you determine
the nutritional content of
your favorite recipes, you
can also..
Read more.