Glazed Zucchini Cake
1 yellow cake mix
3 eggs
1/2 cup olive oil
12 ounces grated zucchini
non-stick cooking spray
1 cup powdered sugar
2 tablespoons milk

Directions.
Preheat oven to 350 degrees.

Spray cake pan with non-stick cooking spray.

Grate zucchini and set aside.

In a large mixing bowl, mix together cake mix, eggs and oil. Add grated zucchini and blend well.

Pour mixture into cake pan and place in hot oven.

Bake for 30 to 45 minutes or until a toothpick inserted into the cake comes out clean.

Remove cake from pan and prepare glaze.
Blend milk into powdered sugar and drizzle over the top of the warm cake.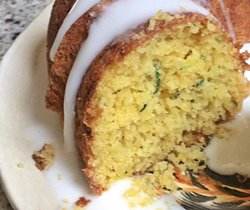 Glazed Zucchini Cake
or try..
Chocolate Chip Walnut Chewies
Apple Treats
Raisin Nut Cinnamon Rolls
Peanut Butteriest Cookies
Mashed Potato Candy
Copyright 2004 What's For Dinner? Make Dinner Time Family Time! - All Rights Reserved. Terms of Use