Subscribe to our weekly newsletter
Browse the Recipe Directories

Glazed Chicken over Rice with Fresh Green Bean Salad
How many servings?

From kitchen to table in 40 minutes.


fresh green beans
carrot
red bell pepper
red onion
olive oil
orange juice
sugar
pepper
olive oil

chicken broth
orange marmalade
lemon juice
cornstarch
water
instant rice

slivered almonds

Grocery Shopping List for Glazed Chicken over Rice
Directions
Trim beans and place in a saucepan. Cover with water and boil on high for 4 minutes. (Begin timing when the water starts bubbling.)
While beans cook, julienne carrot. Add carrot to beans and cook for an additional minute.
Drain and rinse with cool water.
Mix olive oil, orange juice and sugar together in a bowl.
Julienne bell pepper and onion and place in the bowl. Add beans and carrot.
Mix well and sprinkle with pepper. Place in refrigerator.
Place olive oil in a skillet and cook chicken over medium heat until brown on both sides.
In a saucepan, heat water on high until boiling. Add instant rice, reduce heat to low and cover. Cook for 15 to 20 minutes until all the water has been absorbed.
Stir together cornstarch, broth, marmalade and lemon juice.
Remove chicken from skillet. Stir marmalade mixture into skillet, turn heat up to medium-high and cook sauce until thick and bubbly stirring constantly.
Return chicken to skillet, reduce heat to low and cover.
Slice green onion.
Place chicken on a bed of rice and spoon sauce over the top. Garnish with green onion and almonds. Serve green bean salad on the side.
Find more recipes in our free weekly newsletter
You'll also love Lime-Glazed Chicken, Garlicky Skillet Spuds, Spinach and Carrot Salad
Custom Search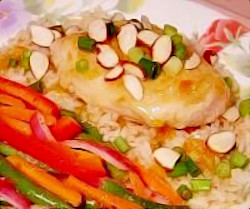 Nutritional information for
Glazed Chicken over Rice with Fresh Green Bean Salad
Nutritional information is
made possible through the
use of the Living Cookbook.
I love the Living Cookbook!
Not only can you determine
the nutritional content of
your favorite recipes, you
can also..
Read more.