Fresh Cherry and Peach Cobbler
2 1/2 cups fresh cherries
2 fresh peaches
1/2 cup butter
1 1/2 cups flour
1 cup oatmeal
1 cup sugar
1 tablespoon baking powder
1 tablespoon milk
1/2 cup chopped walnuts
1 tablespoon flour
1 tablespoon sugar
1 teaspoon cinnamon
non-stick cooking spray


Directions.
Remove pits from cherries. Peel and slice peaches. Combine fruit and place in the refrigerator.
Preheat oven to 350 degrees. Spray a square baking dish with non-stick cooking spray.
In a saucepan, melt butter over medium-low heat. Set aside.
Combine, flour, oatmeal, sugar and baking powder in a large mixing bowl. Toss with a fork to blend. Add milk and melted butter, stir to mix.
Press 1/2 the dough into the baking pan. Sprinkle chopped nuts over the dough.
Sprinkle flour, sugar and cinnamon over fruit and stir to mix. Place fruit in baking pan.
Top fruit with remaining dough and bake in hot oven for 30 to 40 minutes or until golden brown.
Find more recipes in our weekly newsletter

Custom Search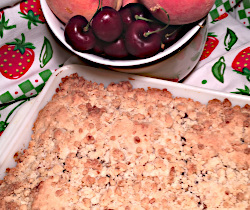 Fresh Cherry and Peach Cobbler
or try..
Peanut Butter Rainbows
Chocolate Chip and Almond Biscotti
Hummingbird Cake
Potato Chip Cookies
Raisin Nut Cinnamon Rolls


Copyright © 2004 - 2020 What's For Dinner? Make Dinner Time Family Time! - All Rights Reserved. Terms of Use