What's For Dinner?
Make dinner time, family time!
Article – The Toy Room: A Great Room for Children And Parents
Subscribe to our free weekly newsletter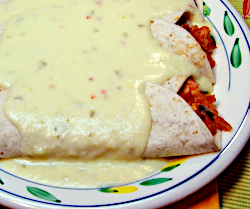 The Toy Room: A Great Room for Children And Parents
–by Misti Norusis
Every child needs a special, magical place: a corner of the world (or at least the house) where he can escape, have fun, and rule his tiny kingdom. And this place is the toy room.
Custom Search
Why You Need a Toy Room
There are many benefits to having a designated Toy Room in the house. The first, and perhaps the most convincing argument, is that the sense of ownership—"this is my space, with my things"—helps develop a child's security and self esteem. Just put yourself in your child's shoes. He's smaller than everyone else, the grown ups set the rules, and the world seems like such a big place with scary and unfamiliar things and experiences. But the toy room becomes his sanctuary. He is surrounded by everything he loves, and has complete control over what happens within the walls of the toy room. Does he play with the blocks or the ball? Will he read a book or paint? Nobody can tell him what to do. Child psychologists also believe that a toy room can help him become more independent, since it encourages him to make small but simple decisions without mom and dad hovering over his shoulder.
For parents, the toy room is an enclosed, designated area where they can leave the child and not worry about his safety. This leaves them free to attend to chores or get a precious half hour of "me time".
How to Set up a Toy Room
Make sure that the Toy Room is completely child-proof, especially if you cannot see the child from where you will be staying. Windows should be securely locked (you can buy clips or window guards). If you have Venetian blinds, make sure that the cords are tied well above the child's reach (they can get strangled on them). Wall sockets must have plastic protectors. Other common hazards are: exposed cords, breakables, and sharp table corners.

Invest in a baby monitor for small children. It's best if you can hear them if they cry—just so can quickly check that they haven't gotten hurt.

Choose furniture (tables and chairs, cabinets, book shelves, or coat racks) that are specifically designed for your child's age and size. They can climb on a tall adult's and then crash down to the floor, or slip while trying to reach a book on a shelf that's too high.

If your child's older and able to follow instructions, give simple toy room safety rules. Better yet, remove anything that would possibly cause danger beyond his ability to control himself. For example, instead of saying "Don't run around with the sharp scissors" give him specially designed scissors for kids.


Toy Room Furniture

Toy chest. Keep small toys organized and out of the way to avoid slipping. If your child has a lot of toys, try breaking them into groups and then rotating them. Not only is this neater, it prevents a small child from becoming overwhelmed (and when you bring out an old toy that he hasn't seen in a long time, he'll treat it like it's brand new!)

Book shelves. Encourage a love for reading by keeping books readily accessible. Make reading a special bonding moment as well—snuggle together to read aloud a favorite fairytale!

Table and chair. A child needs a table for writing, drawing, and other activities that need a bare and elevated surface: putting together puzzles, crafting, playing with clay, or the impromptu teddy bear tea party. Make sure that the table and chair at the right height, and that he doesn't need to slouch over or arch his shoulders to reach the table.

Art easel. Drawing, painting and other creative activities encourage imagination and creativity, and help strengthen the hand muscles for writing. (Did you know that many pre-schoolers have trouble keeping up at school just because they don't like writing?).

Other optional toy room furniture are tents (for hide and seek play), sleeping mats (for nap times and sleep overs), and clothes racks for jackets.
Copyright © 2004 - 2019 What's For Dinner? Make Dinner Time Family Time! - All Rights Reserved. Terms of Use