Ingredients
1 white cake mix
1/4 cup oil
3 eggs
2 cups shredded zucchini
1 cup crushed pineapple (undrained)
1 cup chopped nuts
1 can white frosting
non-stick cooking spray
Directions
Preheat oven to 350 degrees.
Spray a rectangular baking dish with non-stick cooking spray.
Dump cake mix into a large bowl and add the eggs, the oil and the undrained canned pineapple. Use a fork to blend until smooth. Add shredded zucchini and chopped nuts and mix again until well blended.
Pour into baking dish and place in hot oven. Bake for 30 to 35 minutes or until a toothpick inserted into the center comes out clean.
Cool, frost, cut and enjoy.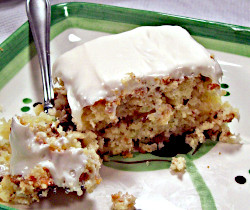 Zucchini Pineapple Sheet Cake
or try..