Subscribe to our weekly newsletter
Browse the Recipe Directories

Teriyaki Pita Sandwiches
How many servings?

From kitchen to table in 20 minutes.


pita bread
pineapple juice
teriyaki sauce
mustard
pepper
deli ham
onion
green pepper
pineapple rings






Grocery Shopping List for Teriyaki Pita Sandwiches
Directions
Slice pita bread and separate into two pockets.
Pour pineapple juice, teriyaki sauce and pepper into a skillet.
Brown both sides of ham in sauce and place in pita pockets.
Chop onion and green pepper. Saute in the same sauce and add to pita pockets.

Brown pineapple in sauce and add to pita. Serve with fruit.

Find more recipes in our free weekly newsletter
Enjoy this meatless pita burrito.
Recipe for Pita-rittos
Custom Search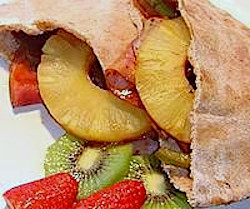 Nutritional information for
Teriyaki Pita Sandwiches
Nutritional information is
made possible through the
use of the Living Cookbook.
I love the Living Cookbook!
Not only can you determine
the nutritional content of
your favorite recipes, you
can also..
Read more.