Subscribe to our weekly newsletter
Browse the Recipe Directories

Tamales and Assorted Dips
How many servings?

From kitchen to table in 2 hours

Salsa

tomato
onion
fresh cilantro
chopped garlic
canned, diced chilies, undrained
water

Masa

olive oil
chicken broth
maseca flour

Filling

shredded, cooked pork

Wrap



Side

assorted dips

Grocery Shopping List for Tamales with Assorted Dips
Directions
Separate corn husks and soak in a large bowl of water. A heavy plate can be used to keep husks submerged.
Dice tomatoes, onion and cilantro. Place in a saucepan with a lid. Add garlic, canned chilies and water.

Heat to boiling, cover and reduce heat to low.

Pour olive oil and chicken broth into a mixing bowl. Add flour cup at a time and mix with a fork to form a soft dough.

Pour salsa into a colander to drain. Place in a blender and puree.

Remove corn husks from water and dry with a paper towel.

With you fingers, spread masa dough in the center of the corn husk leaving inch of the side edges and 1 inches of the top and bottom edges uncovered.

Spread 1 teaspoon salsa down the center of the dough. Top with shredded pork.

Roll corn husk into a cylinder. Tie both ends.

Place rolled tamales in a steamer basket. Heat water under basket to boiling. Cover and reduce heat to medium. Steam for one hour. Add additional water if necessary.

Tamales are done when the masa dough no longer sticks to the corn husk.

Serve with assorted dips.
Find more recipes in our free weekly newsletter
Serve some Zucchini Fingers on the side
Custom Search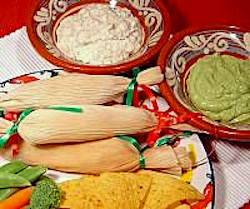 Nutritional information for
Tamales and Assorted Dips
Nutritional information is
made possible through the
use of the Living Cookbook.
I love the Living Cookbook!
Not only can you determine
the nutritional content of
your favorite recipes, you
can also..
Read more.