Subscribe to our weekly newsletter
Browse the Recipe Directories

Potato Antipasto Salad with Tuna
How many servings?

From kitchen to table in 1 hour.


small red potatoes
red onion
baby spinach
fresh parsley
orange bell pepper
celery
red wine vinegar
olive oil
Dijon mustard
dried basil
pepper
tuna canned in water
sliced ripe olives
garlic cheese bread

Grocery Shopping List for Potato Antipasto Salad with Tuna
Directions
Scrub potatoes and place in a large saucepan. Cover with water and heat over high temperature until water begins to boil. Reduce heat to medium-low and cover pan. (Heat can be lowered if pan begins to boil over.) Cook until potatoes are tender when pierced with a fork. (about 40 minutes).

While potatoes are cooking, mince onion and spinach leaves and chop parsley, bell pepper, and celery. Place in a covered bowl and refrigerate until ready to use.

When potatoes are done, drain off the water and allow them to cool slightly.

While potatoes cool, make a dressing by combining red wine vinegar, olive oil, mustard, basil and pepper. Whisk to blend.

Cut potatoes into quarters, place in a serving along with chopped vegetables. Pour dressing over top and toss to blend.

Drain tuna and olives. Add to potatoes and toss again to blend. Can served warm or chilled. Offer garlic cheese bread on the side.

Find more recipes in our free weekly newsletter
Try this cheesy Chicken Casserole - Recipe for Peas and Cheese Chicken Casserole
Custom Search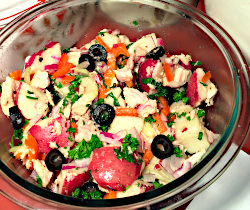 Nutritional information for
Potato Antipasto Salad with Tuna
Nutritional information is
made possible through the
use of the Living Cookbook.
I love the Living Cookbook!
Not only can you determine
the nutritional content of
your favorite recipes, you
can also..
Read more.