Subscribe to our weekly newsletter
Browse the Recipe Directories

Pepper Steak and Squash
How many servings?

From kitchen to table in 30 minutes.


tenderized beef
olive oil
green pepper
yellow bell pepper
zucchini
onion
garlic
beef broth
soy sauce
corn starch

bean sprouts
boil-in-bag rice




Grocery Shopping List for Pepper Steak and Squash
Directions
Heat water to boiling in a large saucepan
for rice.
Brown beef in olive oil over medium heat.
Dice peppers, zucchini and onion and add
to beef in skillet.
Add garlic, stir to mix and reduce heat to
low.
Mix together beef broth, soy sauce and cornstarch. Pour over beef and peppers.
Increase heat to medium and stir well.
Cook rice in boiling water according to package directions.
Add snow peas and bean sprouts to beef
and pepper mixture. Cook until sauce
thickens and snow peas are tender.
Serve over rice.

Find more recipes in our free weekly newsletter
What are antioxidants and how can
you get enough in your diet?
Custom Search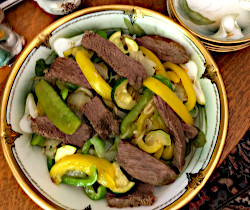 Nutritional information for
Pepper Steak and Squash
Nutritional information is
made possible through the
use of the Living Cookbook.
I love the Living Cookbook!
Not only can you determine
the nutritional content of
your favorite recipes, you
can also..
Read more.