Oatmeal Candy Cookies
Your favorite oatmeal cookies with candy-covered chocolates baked in.
From kitchen to table in 20 minutes.
1 cup brown sugar, packed
1 cup granulated sugar
2 eggs
1/2 cup margarine
1/2 cup olive oil
2 cups oatmeal
2 cups flour
1 teaspoon baking powder
1 teaspoon baking soda
1 tablespoon milk
1 cup chocolate-covered candies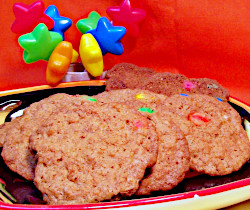 Directions
Turn oven on to 350 degrees. Spray baking sheets with non-stick cooking spray.
In a mixing bowl, cream together sugar, margarine, oil and eggs.
Add oatmeal and blend.
Add flour and sprinkle baking soda and baking powder on top. Mix leavening into flour and continue stirring to form a stiff dough. Add milk during the last stages of blending.
Fold in candies. Use a teaspoon to transfer cookie dough to baking sheets.
Bake for 10 minutes, cool and enjoy.