Fish Tacos with jalapeno poppers
Flakey fish, fresh salsa, cabbage shreds and cheese are stuffed into a warm taco shell and served with jalapeno poppers from the grocer's freezer case.

How many servings?

From kitchen to table in 30 minutes.

finely chopped tomato
finely chopped Serrano pepper
finely chopped cucumber
finely chopped red bell pepper
fresh cilantro, chopped
red wine vinegar
lemon juice
sugar
fish fillet
olive oil
salt
pepper

shredded cabbage
shredded cheddar cheese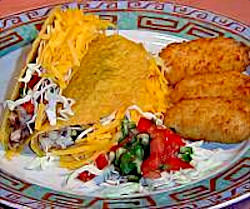 Directions
Combine chopped tomato, Serrano pepper, cucumber, red bell pepper, cilantro, red wine vinegar, lemon juice, water and sugar to
make a fresh salsa. Cover and refrigerate.

Preheat oven to 450 degrees.

In a skillet, brown fish in olive oil on medium heat and season with salt and pepper.

While fish cooks, place jalapenos on a baking sheet and place in hot oven.

When fish is nearly done, heat taco shells on a cookie sheet in the hot oven for one or two minutes, until crisp.

Place fish in taco shells. Layer salsa, shredded cabbage and shredded cheese onto taco.

Serve with jalapeno poppers.